Which Marketing Platform gets you the best return?
With so many platforms to spend your money and time on trying to reach new customers which one would you pick if you only had time and money to pick just one?
Email? Contact people who have already been to your website?
Facebook? Find people by location and interest and engage with them?
Direct Mail? Send post to people in a focused area to see if they are interested?
Paid Search? Target people who use Google and are looking for your services?
That's a lot to choose from and we haven't even scratched the surface yet.
Let us help you. We found research, which surveyed professional marketers across all industries and this was their findings.
Email is clearly the channel marketers are choosing to engage with customers. Why? Well, for one it has the best ROI (Return on Investment) than others such as Facebook, direct mail and paid search.
The survey carried out in June 2016 of US marketers conducted by the Direct Marketing Association (DMA) and Demand Metric found that email had a median ROI of 122%.
That's more than four times higher compared to the other marketing formats as detailed in the chart below.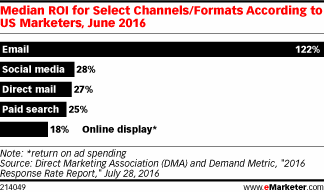 Original Source of image: https://www.emarketer.com/Article/Email-Continues-Deliver-Strong-ROI-Value-Marketers/1014461
So if you are going to invest time in marketing and engaging with clients then it looks like email is your best option if you want to make back more than the money you spent.
People who read this also enjoyed: